Interview - Walking Papers (english version)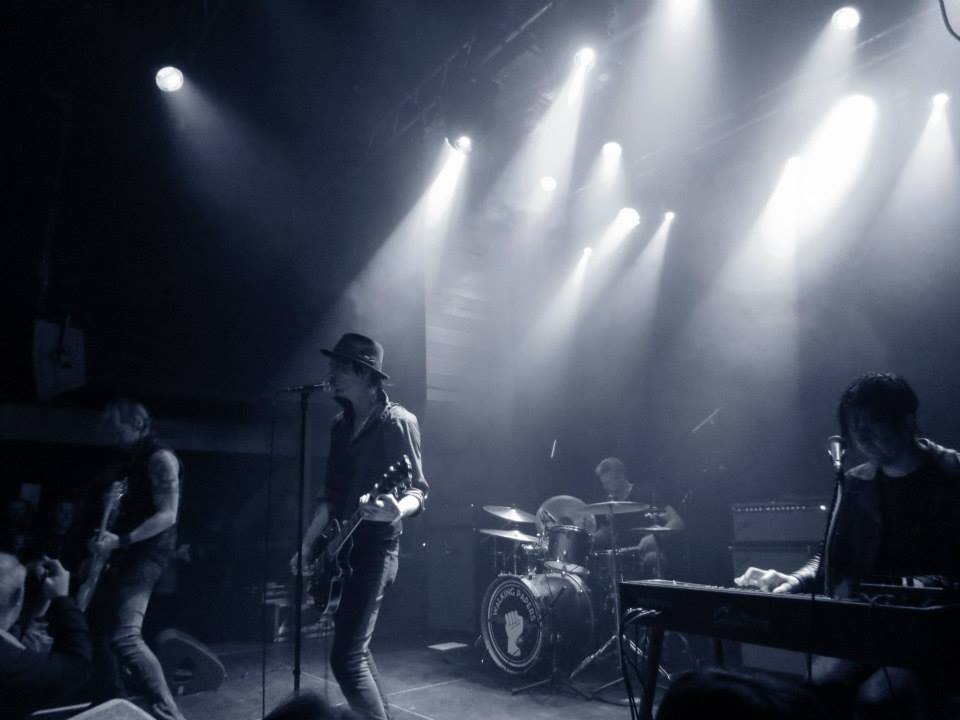 We have already talked about Walking Papers. This new band from Seattle released a great first album last year (our review in French), which is not really surprising when you have a look at its members : Jeff Angel (vocals, guitar) and Ben Anderson (keyboards) of The Missionary Position, Barrett Martin (drums) formerly of The Screaming Trees and Mad Season, and Duff McKagan, former bassist of The Velvet Revolver and Guns'N'Roses. Enough said.
Last friday, Walking Papers played an incredibly intense show at "Le Petit Bain" (a boat) in Paris. Before that, we had a great discussion with Jeff Angel and Barrett Martin. About their next album, Seattle scene, the tour with Alice In Chains and… music in 2013. (Read the French version here)
What strikes me on your first album and on stage is that there's a real chemistry between all of you. It doesn't sound at all like an all-star band. How do you explain it ?
Jeff Angel : The chemistry does that if you get lucky. To me, you can have four of the greatest musicians in the world and it can sound horrible. You can also have three people who can barely play and they find a chemistry that is great. There's a couple on here that can really play and a couple of us that are just faking it. So if all together comes out as a "tonini thing" (???) then you get success !
You're about to record the second album. Do you have an idea of when it will be released ?
JA : Ben said « the best don't pass up the scars till the baby is born. » (Laughs)
But you have already recorded a few songs ?
JA : Yeah we have a lot of songs we're excited about but sometimes even you record so many... There is a little bit of luck… Sometimes capturing is like get a picture of the Loch Ness monster. You know it's there but it might not come to the surface to let you take its picture. Like getting a picture of a ghost or something. Recording is like that. Maybe you like the songs but recording is something that just ain't right, that's a whole another art to recording something, try to put it in a frame. So we hope it will go out fast, we like the songs that we have, we'll play some tonight. I think it's in evolution of the other record so that's exciting.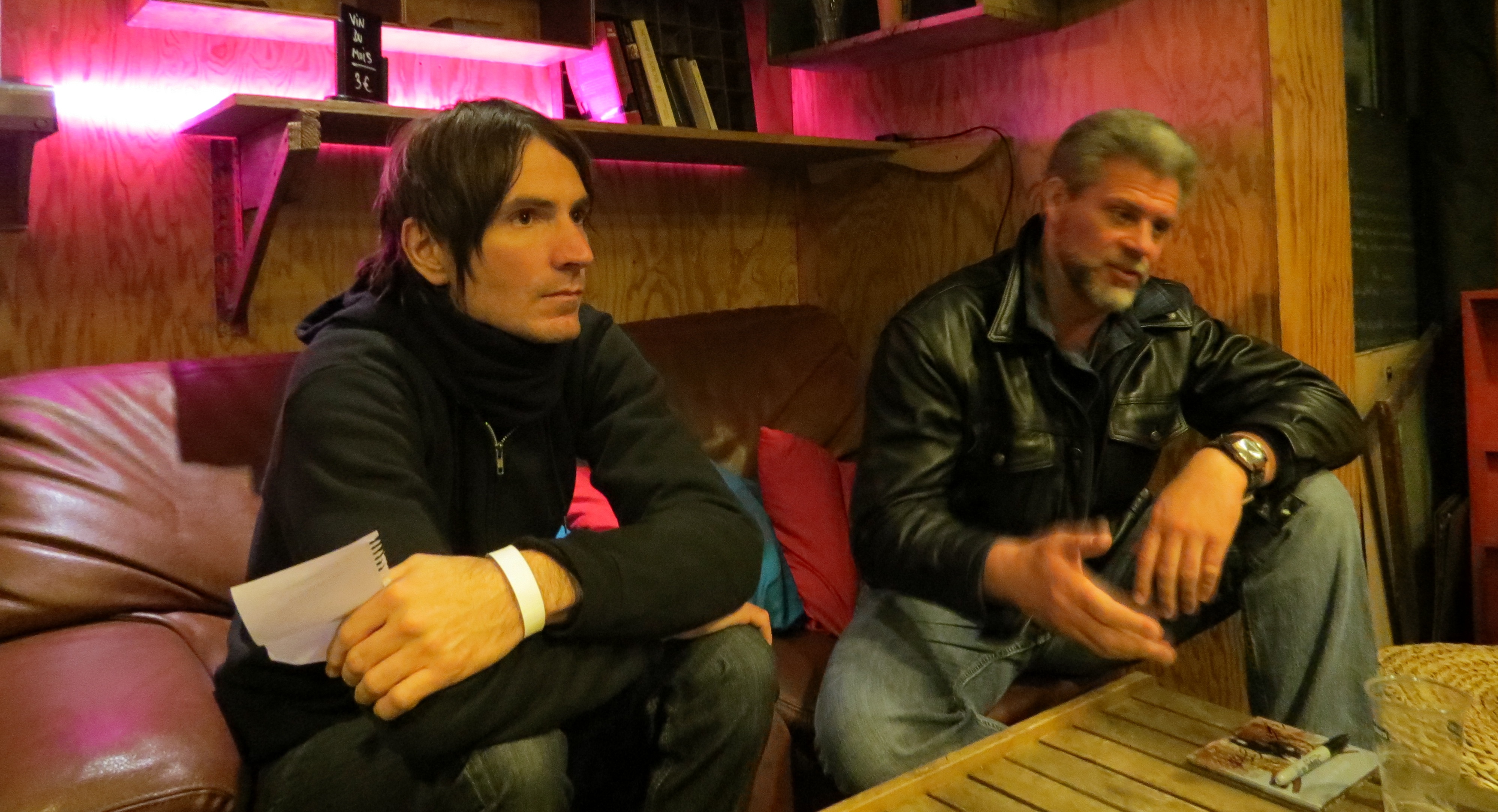 Does Mike McCready [Pearl Jam guitarist who played on the first album, ed.] play on it ?
Barrett Martin : Not yet. I don't know if he will or not.
JA : he played on some demos that we did but for the record we don't know yet.
Will it be very different from the first one ? You tried to explore new ways ?
BM : I think that it probably takes the best aspects of the current album and expands it. So it will have new ideas and we experiment with some new ways of playing and different kinds of songs. But we still have the great chemistry that you talked about. That's still there. Second albums for bands usually are built on what they did the first time and they simply expand it. It goes to more adventurous territories.
JA : We're pretty eclectic as it is. I think that record has a flat new song and has a waltz. On the next record we'll have afrobeat, some 3-4, and maybe there'll be some new flavours 'cause we really wanna experiment. But I think as a band we instinctively know how to work with each other better so I think it improves our chances of catching better songs.
Old Seattle bands are still going great which is pretty amazing in 2013. What did you think about the albums that came out this year (Mudhoney, Alice In Chains, Pearl Jam…) ? Did you listen to them ?
BM : Yeah ! I have not heard the new Mudhoney but I heard the new Alice In Chains and it's great, the new Soundgarden is great. I listened to the Pearl Jam album online but I haven't got the CD yet. I just think it's a testament to how much music and talent there is in Seattle. There's always new music coming out of Seattle. And not just the old grunge bands, there's many new kinds like all the folk bands, Devendra Banhart and The Fleet Foxes and Band of Horses and… Are The Lumineers from Seattle ?
JA : No. I like the band Widower, a new band acoustic with a singer-songwriter. Of course Macklemore is huge. I liked the Pearl Jam's new record, I liked that kind of punky. The Soundgarden record is kind of nice, there are good jams on there. It's good to see them making music again. I too haven't heard the new Mudhoney.
You have to, it's great ! You just toured with Alice In Chains. How was it ?
BM : That was great ! We're all friends with them. We've known them for twenty years, we've played with them in the past. I toured with them twenty years ago with Screaming Trees and Alice on the Dirt album. It's twenty years this year, that was 1993. It's so nice in 2013 to see everybody making music twenty years later.
JA : I got to play "Rooster" with them in California in front of 15 000 people. I was smiling so big that my face hurt from like a week after. (Laughs) Then when we come over at the end, a couple of guys would take a turn and look at me and was just shaking his head. It was really fun.
Jerry [Cantrell, te guitarist, ed.] and Sean [Kinney, the drummer, ed.] came to hang out in our bus. They all liked to come in our bus to get away from their own band cause they've been together so long. So we really talked together. Really for such a serious music, they're really funny guys. Very, very funny. Sean Kinney is a very talented drummer but I think he's at least ten times as talented as a comedian ! He should have his own TV show. He never stops. You can't talk anything serious, then comes a joke instantly.
(To Jeff) You didn't know them before this tour ?
JA : Just vaguely from Seattle. And when I was a little kid, that was one of the first shows that I've seen when they were a local band before they had a record. They kind of showed me the road map, showed me that it's possible to be a little band and grow to become a big band. I was fortunate to be there.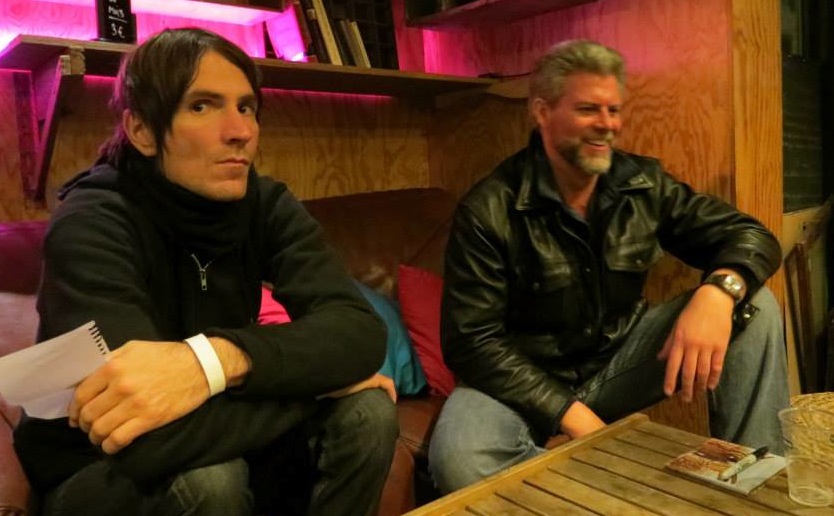 We talked about Seattle bands but in more general terms, what did you like particularly this year ?
JA : So far this year, I've been very busy doing music but there wasn't a lot that I was really blown away with. Last year, I liked The Kills, I liked Metz... (He's thinking) It's hard to come out with a list. I was really excited with the new Arcade Fire but it didn't really do it for me, I wasn't that blown. I don't think it's bad but I don't love it.
BM : I liked the new Elton John ! Just piano, drums and bass. Pretty minimal but it's really cool. He came back to his old style. I liked it.
JA : Some friends of mine band called A Leaf released an EP and I really liked it. I liked Widower, that was really good.
And what about the new Queens Of The Stone Age ?
BM : Yeah I really like that record I was gonna say it. You always forget when you get asked these questions. Actually I produced a band from Seattle and I really liked their songs. They're called Vaudeville Etiquette. It's folk rock and sounds like Fleetwood Mac. I probably have to say my favorite rock album is Queens Of The Stone Age's record. We played with them at the Download Festival in june and in Berlin a couple of weeks later. It was fantastic.
JA : Actually there were a tons of records that I bought and I was disappointed. I don't wanna make up a shit list but there are lots of people that I really love and I bought their new record and they're not as good as their old stuff. Sometimes people are just making records cause they think "we gotta keep the machine rolling". Some of my heroes made crappy records I don't wanna say who they are*...
But I always discover old music, it's a new records to you 'cause you've never heard it before. Like Solomon Burke, he died a few years ago, I started listening to his records and I really like those. There are a lot of new people that I got to know but they're not new. That's a problem now when you put out a record, you're not just competing with what's out today but with everything that's been put out since 1920 cause people have access to all of it.
You have other plans, side-projects for next year ?
JA : I'm making another record with my friend Ben on keyboards but we're just gonna sit on it with Walking Papers stuff. So meanwhile we have our little secret record. It's not like Walking Papers stuff but we have no plans to put it out.
BM : I have an instrumental band, Tuatara [that includes Peter Buck, REM guitarist, ed.]. We made records like 5 years ago and we have a new record that's gonna come out in april or may. It's just a studio band, we record instrumental songs and they get used for soundtracks. It's like soundscapes, cinematic, experimental, like mood music. World music, jazz ,electronic…
Barrett, I'm sure I'm not the first one to ask you this but... Reunions are really trendy, what about reforming Screaming Trees ?
BM : Probably it would never happen. Because everybody has moved on, in new bands. I'm in this band, Mark [Lanegan, the singer, ed.] has a great solo band. Lee, the guitar player [Gary Lee Conner, ed.], makes solo records. His second solo album is coming out this spring. We don't wanna go backwards in time so it will probably never gonna happen.
JL
*Later during the interview when we were talking about the best albums of 2013, Jeff told us that "Nick Cave's album was one of the "shitlist". I love Nick Cave, he's one of my old time favorite but the new album… My favorites are Henry's Dream, Let Love In, Murder Ballads. To me, the new one compared to everybody else is good, compared to him… It's not his best album." He added that he liked the new Arctic Monkeys "these guys hate it, I like."